Help / FAQ
If your question is not already answered here, please send us your question by e-mail using the
Contact Form
or call us by Tel. +49 (0) 6201 878380.
Questions about Payment
You may choose between:


• Convenient payment per invoice
• Pre-payment
• Payment by credit card (Master Card & Visa)
• PayPal

For our Swiss customers, we have set up an account at PostFinance.

For initial orders the maximum total invoice amount is € 200,-.

Although we use secure SSL encryption during your purchase in our online store, we decided not to store credit card data. Your sensitive credit card details will be deleted immediately after your purchase. Thus, it is not possible to obtain credit card data from our customers by fraudulent means.
Please contact us with any problems regarding payment with PayPal at +49 (0)6201-878380. Perhaps your account or credit card with PayPal has a daily maximum limit, which is exceeded by the amount you are trying to purchase. Often this amount is € 500.- or € 1,000.-.
In principle, payment per invoice is available to all customers from Germany, Austria and Switzerland. If this is your first order via our online shop, the maximum sum of your entire shopping cart is limited to € 200.- if you wish to pay per invoice. For bigger orders please pay with PayPal, credit card or pre-pay.

Questions about Products
No, we only ship fresh and sealed products. When opening, however, it may happen that the seal is broken during the unscrewing process. Many suppliers of nutritional supplements use aluminum to seal cans. During the induction sealing, an aluminum foil is very strongly heated by a high-frequency electromagnetic field. We deliberately do not use this method!

Questions about Orders
There are several possible reasons. Our shop system automatically sends you a confirmation immediately after receipt of your order. Please check your SPAM filter to find out if the e-mail was blocked. You also may have entered your e-mail address incorrectly when placing your order. If, for this reason, the log-in to your customer account is not possible, please contact us! All contact options

Questions about the Online Shop
Of course, you can order without creating a customer account. Simply enter your data during the shopping process without checking the box "I want to save my data for further shopping with a password." If you do not create a customer account, you will not be able to manage different delivery addresses, view your order history or re-order without supplying all your data again.
Having an account with us is the most convenient way for you to make new purchases. If you have an account, you can re-order without entering all address data. You can manage different delivery addresses, view order history, quickly order the same product again, or create a memo for future purchases - as well as manage the newsletter settings.
Are you sure that you already used the shop with a LogIn password and not only as guest user without? Pleaes simply try to place your order by entering all your adress information again. If you already have a user account an information will be shown. In this case you can request a new password. On the page "Forgot password?" you will find all the necessary information.
Your Biotikon® Advantages:
Quality
Made in Germany
Premium-quality extract
Capsule
contains
no additives*
Shipping
Environmentally-friendly dispatch packaging
free shipping on orders over 70 Euro in EU countries, UK & switzerland
with also on packing stations,
3 - 5 days
1 - 3 days
, , 3 - 5 days
Payment
on account (by invoice)
Security
Secure purchase by means
of a buyer seal certification
from the trade association
"Händlerbund".
Secure Data Transfer
128 bit SSL encryption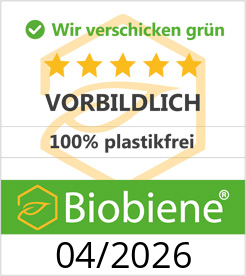 We are here for you
+49 (0)6201-878380
Mo. to Fr.: 8 a.m. till 7 p.m.
Sa.: 9 a.m. till 4 p.m.
ORDER HOTLINE
+49 (0)6201-878380

Mon - Fri. 8am - 7pm & Sat 9am - 4pm